Meet the Solstiss Team
Schedule an appointment in one of our showrooms to discover our latest collection & all our French Leavers laces : Chantilly, floral, Alencon, Guipure, geometric, bridal, beaded & embellished trim laces, Haute Couture and more...
Los Angeles Showroom
777 S. Alameda Street, 2nd Floor
Los Angeles, CA 90021
By appointment only
213 688 9797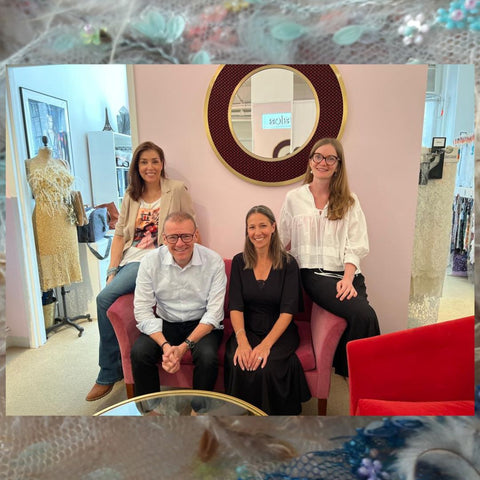 New York Showroom
Suite 601
New York, NY 10018
Mon - Fri, 9am - 5pm
By appointment only
212 719 9194
Set up an appointment
Spring Summer 24
The summer light is already shining bright at Solstiss and illuminate our new designs with shiny beads, sequins and glitter...
Fall Winter 23-24
This season, Solstiss unveils new bold patterns
and surprising techniques and materials such as paint and silicone.
From Runway to Red Carpet
The fabric offering this season are fluid, sheer, delicate and ultra-refined. They entice shimmering metallic aspects and finishes that are intriguing and often unexpected.
Bridal
From Grace Kelly, Kate Middleton to Lily Collins, Solstiss continues to bring brides dreams to life.
Our Story
"The level of beauty and quality that Solstiss embodies is so rare and special, the artistry and elegance of Solstiss lace elevates my designs" Elizabeth Fillmore, Designer, Elizabeth Fillmore Bridal
1
Respected Worldwide
Solstiss is the world leader in French leavers lace creation and manufacturing. Based in Caudry, and with factories dating back to 1876, it uses only Leavers machines. This century-old expertise has been passed down from generation to generation without ever leaving its ateliers.
2
Century Old Savoir-Faire
The Solstiss know-how lies in the traditional and unique craftsmanship of its makers, which are the most highly skilled lace workers in the world. The result is a unique lace appearance, so gorgeous, so feminine, so French. It is hard to imagine that those century old, 10 ton machines are giving birth to such amazing delicate lace.
3
Completely Vertical
Solstiss has a complete vertical structure, from design to manufacturing, to dying, finishing and distribution. It employs over 250 people and operates 110 machines, which represents about 30% of the remaining Leavers looms left in the world today.
4
Based Internationally
With offices in Paris, Milan, New York and Los Angeles, and thanks to its world largest collection of designs, the list of Solstiss clients read like a Who's Who of the international fashion industry.
5
Our Clients
From Alexander Wang to Brandon Maxwell, Stuart Weitzman to Ulla Johnson, Jason Wu to Ralph Lauren, Danielle Frankel to Kiki de Montparnasse, Rodarte to Michael Kors, the best fashion houses use Solstiss as a resource and inspiration for their work.
6
Offerings
Today Solstiss is not only intended for luxury women's fashion : Haute Couture, bridal and ready to wear, but also lingerie, home décor and now your very own face mask.
Subscribe to our email list
For everything Solstiss and more